El Condado Miraflores Hotel and Suites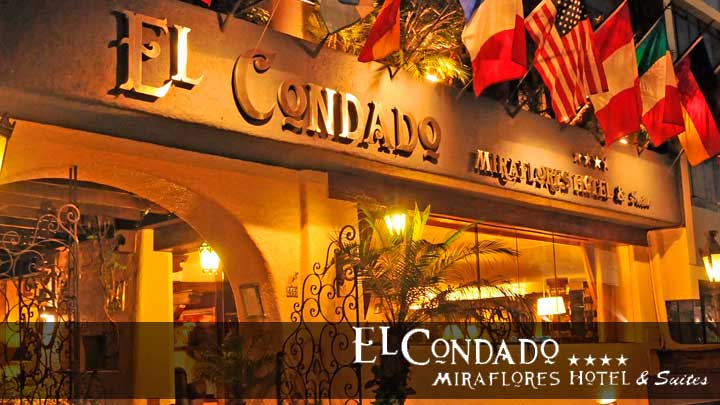 ---
Overview
El Condado Miraflores Hotel and Suites is a city hotel with excellent location.

Nearby to the financial, cultural and tourist center of the Peruvian capital. This hotel was renovated in 2008 and combines modern and historical features in perfect harmony. It occupies 2 buildings, one of them is an apart hotel and offers a wide selection of accommodation options ranging from standard rooms to apartments for 1-2 bedrooms are air conditioned.
Rooms
Our comfortable rooms convey the color and warmth of the Mediterranean style providing a comfortable atmosphere. We have air conditioning, heating, telephone service with national and international direct dialing, mini bar, electronic safe, cable TV and Internet access free of charge in all rooms and a Business Center free of charge at your disposal 24 hours a day.
DeLuxe & Premium
DeLuxe & Premium Room is equipped with a king bed (for up to 2 people), full bathroom, with hair dryer and Jacuzzi . 
Premium has Jacuzzi and Sauna.
The electrical outlet is 110/220v.
The rooms also feature LCD TV with cable (over 100 channels),
broadband internet (WIFI - Cable) free of charge,
digital Safe,
minibar,
air conditioning/heating. 
Available with terrace.
Services
Conferences
Events
We have 5 multifunctional areas for up to 140 people, equipped with the latest technology, Access to high speed internet. Our Staff will provide the necessary to ensure the success of your event attendance.
We provide several options either for social or corporate events like a Seminars, workshops, training and Conference, etc.
Restaurants :
L'Apart Restaurant
An intimate atmosphere with a nice decor and a terrace overlooking the Alcanfores street.
Hours: daily from 6am to 11pm.
Restaurant El Condado
Hablar de comida peruana es hablar de una gran mixtura de influencias; 
tanto la andina, española, árabe, china, italiana, y japonesa, que ólivos ja fusionadas a través de los tiempos forman lo que hoy es la maravillosa comida peruana que asombra a todo el mundo. 
En el Restaurante El Condado, usted podrá disfrutar de la más variada carta de platos peruanos e internacionales que son la delicia de nuestros invitados.
---
El Condado Miraflores Hotel and Suites on Google Maps