Hotel and Casino Boulevard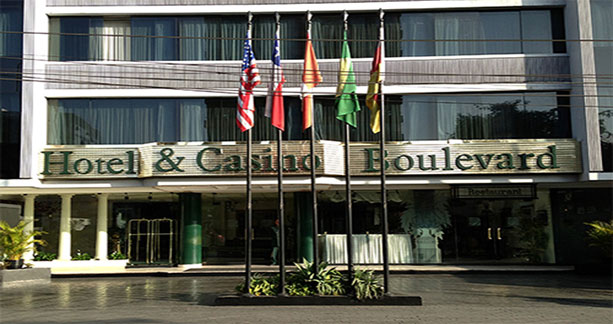 The best prices of Peru. Includes American Buffet Breakfast and Taxes.
---
Overview
Located in Miraflores, in the best place in Lima Peru. 1 hour from the airport, half hour from downtown Lima and 15 minutes from the beach.
Rooms
The Boulevard Hotel has 55 rooms and a suite.

All Boulevard Hotel Rooms have separate living room, bar, bathtub, air conditioning, TV, radio, telephone and hair dryer, mini bar, courtesy WiFi in all rooms and facilities Hotel. Coffee and tea courtesy. Connecting rooms. Rooms NO SMOKING.
Suite Deluxe
The Hotel Boulevard offers a suite.
Luxury Suite with living room, bar and refrigerator, bathroom with tub, telephone and hair dryer, guest bathroom, a bedroom with king size bed and jacuzzi in the bedroom.
Services
Restaurant
In the restaurant you can enjoy international and Peruvian food, first going through the Bar and enjoy a delicious Pisco Sour.

It is open from 11:00 am to 4:00 pm and from 7:00 pm to 12:00 am Room service (no extra charge).
Bar Le Bar
The Bar is located on the first floor, we offer a variety of cocktails and the best national and international liquors.
We prepare the best Pisco Sour in Lima.

It is open from 11:00 a.m. to 4:00 pm and from 5:00 pm to 12:00 am
Cafeteria
The Coffee Shop is located on the seventh floor, where you can enjoy a delicious American Buffet Breakfast overlooking the terrace and pool.

It is open from 7:00 a.m. to 11:00 pm Room Service
---
Hotel and Casino Boulevard on Google Maps