Hotel Ariosto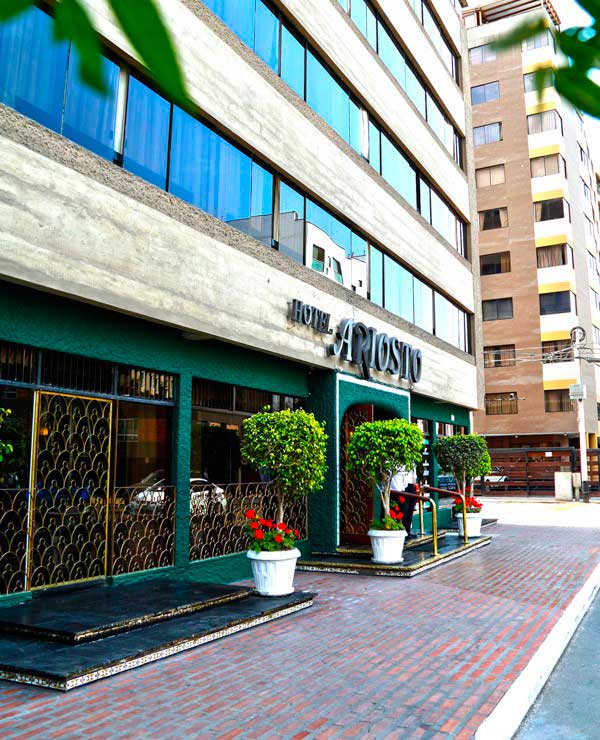 Experience and tradition, 100 comfortable rooms designed with style.
---
Overview
We are located in the heart of the attractive borough of Miraflores, an important commercial, business and tourism center of Lima, close to the nicest beaches, restaurants and clubs of Lima City. Our hotel is only 35 minutes away from the International Airport Jorge Chavez.

For your safety and convenience we offer a Shuttle Bus Service from the airport to the hotel. We have a breakfast brunch buffet with delicious and varied Peruvian and international dishes and 24 hour medical assistance.
Rooms
Our 100 rooms have:
Air Conditioning.
Cable TV.
Three telephones with connection devices for computers and Internet.
Bathrooms with telephone and pressurized system.
Room service 24 hours.
Safety Boxes.
Bar Fridge.
Laundry Service.
Permanent Security Service.
THE UPPER SUITES ALSO HAVE A SAUNA AND JACUZZI
Our service offer for our business clients is very flexible. Additionally to our Business Center at the hotel, we can adapt a room to a Business Center for private meetings if required.
Services
Shuttle Bus
Our main free of charge service:
Shuttle Bus Service: Airport - Hotel (24 hours).
The convenience and security of our guests is important for us.
We pick up our guests from the International Airport Jorge Chavez.
Breakfast - Brunch-Buffet
Monday to Friday from 7.00 am to 10.00 am 
Saturday to Sunday from 7.00 am a 10.30 am 
Included in all room prices.
Suckling Pig
Cheese Croquettes
Scrambled eggs with ham
Green Tamales
Fried Pork with onions
Fried sweet potato
Chard Pie
Filled Potatoes
Rice with vegetables
Italian sausages
Season fruits
Baked apples
Fresh cheese/Edam cheese
Peach in syrup
Yoghurt, honey, marmalade
English Cake
Season Fruit Juices
Black Coffee, coffee with milk, Expresso, tea, milk and other teas
Bread (croissant, white bread, whole-wheat bread, corn bread, yolk bread and toast)
24 HOUR MEDICAL ASSISTANCE
INCLUDED IN THE ACCOMMODATION
---
Hotel Ariosto on Google Maps