Hotel and Convention Center Maria Angola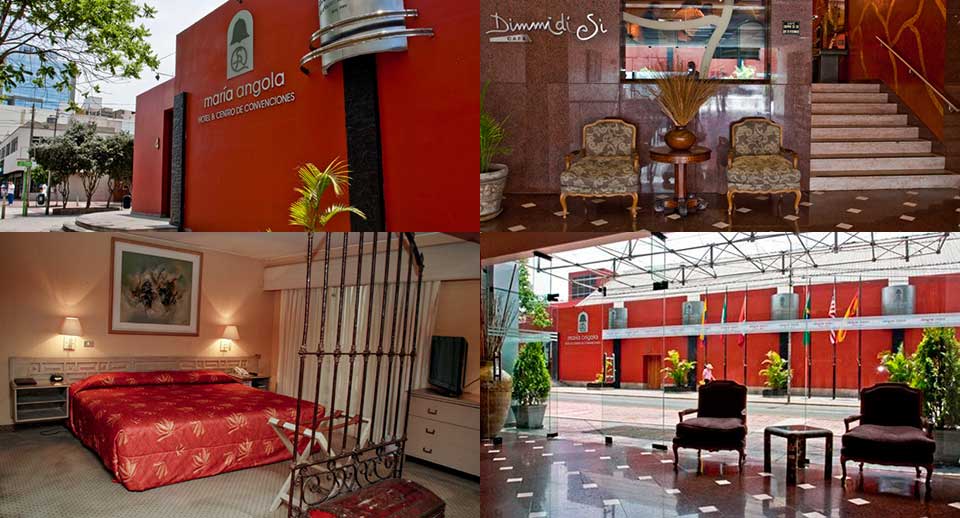 ---
Overview
María Angola Hotel is strategically located in the heart of Miraflores, the most important financial and commercial area, only 10 minutes to downtown Lima and 30 minutes the international airport.
History
Amongst all the countries of América, Perú abounds most in traditions, Whether within the frame of its undivided Inca Culture, or within the fame of its Spanish cultural background, tradition plays an important role in the history of Perú. One of these traditions is the old bell today known as "LA MARIA ANGOLA" of Catedral in Cuzco, the ancient Inca´s capital. This Bell was built in 1655, it weights about six tons, and it´s 2.10 meters high.
There is, howeveer, a love story attached to tha name and the make up of the famous bell. There lived in Cuzco at that time a very rich lady named Maria Angola, who became involved in a passionate romance with a Spanish beau by whom she finally became pregnant. On hearing of this, Maria Angola´s father challenged the seducer to repair his misdeed, but he lost hi life in the field of honor. Repentant, the beau traveled to Spain promising to return, but he also died during the journey. Disconsolated over the loss of both her father and lover, María Angola decided to become a num at the Convent of Saint Therese and, in manifestation, of her repentance she threw into the hearth where the giant belt was being smelted, a 25-lb. gold piece, her jewelry of gold and precious gems, which constituted her immense fortune. For this reason this bell was named after "María Angola".
We are even today able to admire the majestic bell pending from the thick elder beam in the tower of the Cathedral at Cuzco, and its powerful and harmonies chimes can be heard at a distance of more than 30 kilometers from Cuzco.
Rooms
Our rooms ans suites are available with air conditioning system, safe deposit box, minibar, local and international direct dialing calls, color cable t.v., internet connection, hair dryer, fire detectors, both 220/110 voltage power supply, king and queen size beds, sound-proof windows and 24 hours medical assistance, room service, among other facilities.
Simple
Our Promotion US$ 80.00
Normal US$ 150.00

Confortable twin bed completely furbished with

Double
Our Promotion US$ 90.00
Normal US$ 180.00

Confortable twin bed room completely furbished.
- Frigobar
- Cable TV
- Direct internet access
- National and international dialing
- Safety deposit box
- Acoustic windows
- Central air condition
- Smoke detector
- 110 - 220 voltage
- Hairdryer
- Clock radio
- Amenities
Services
Business Center
Located in the second floor of the Hotel Maria Angola you will find a complete business center with board room, bilingual secretary, telephone, fax, computer, printer, photocopier and permanent access to internet.
---
Hotel Maria Angola on Google Maps