Colca Canyon Trek in 2 Days / 1 Night

The Colca Canyon trek in Colca Valley of Arequipa is one of the most beautiful areas for a great trek in Peru; here you will find andean terraces buit by the Collaguas and Cabanas coming from the pre–inca times. This zone presents 16 villages, these are:
Sibayo
Callalli
Tuti
Canocota
Chivay
Coporaque
Yanque
Ichupampa
Achoma
Lari
Maca
Madrigal
Cabanaconde
Pinchollo
Tapay and Huambo towns
in all this area you will find colonial churches and gently people. In Chivay , Sibayo, Yanque and Llahuar you will find hot springs, with recognized medicinal ingredients in its water.
---
1 DAY: AREQUIPA – CABANACONDE
We will pick you up at 03:30 a.m. to board a bus and drive to the village of Cabanaconde. Along the way we will stop at the Condor Cross, where we can appreciate the depth of the canyon and the majestic flight of the condors. We will have a packed lunch for breakfast. Then we will head to the Pampa of San Miguel.
Here we will start our descent of approximately 1,000 meters till we reach the altitude of the Colca River. After that we will ascent to visit the first community of Campesina de San Juan de Chuccho, where we will have lunch. We will continue our journey to Cosñirhua and Malata. From here we will start again to descent to cross the suspension bride of Sangalle to reach the community of Sangalle, which is also known as oasis and public bath. Here we will have dinner and stay for the night.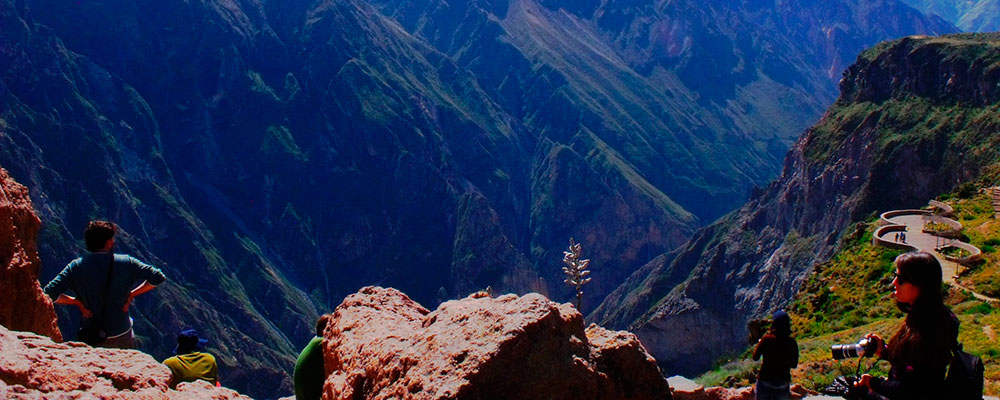 2 DAY: SANGALLE – CABANACONDE
We will start our 3 hour climbing trek through the canyon at 04:00 a.m. Upon arrival in Cabanaconde we will have breakfast. There we will take our touristic vehicle to return to Chivay. Along the way we will make some stops at different villages and touristic attractions, such as the natural viewpoints (Choquetico and Antahuilque). Once we arrive at Chivay we will enjoy the thermal baths of Calera. There we will have lunch and then return to Arequipa, where we will arrive at approximately 04:00 p.m.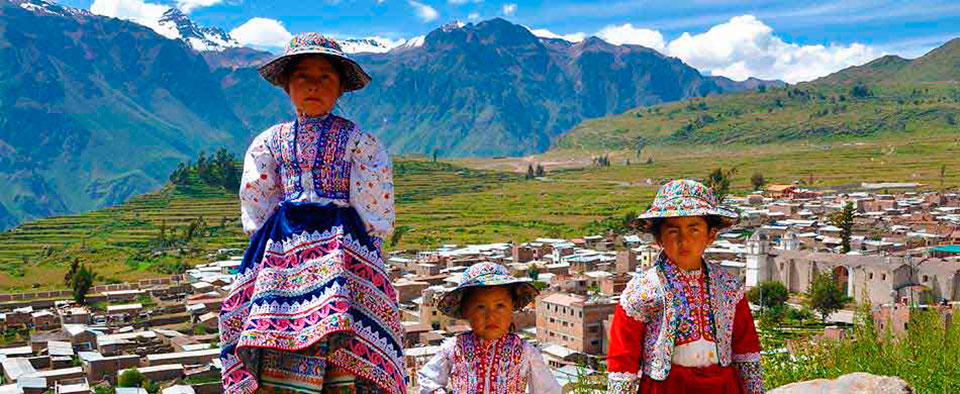 Included
Transfer in/out
Touristic vehicle
Touristic ticket for the Colca Canyon
Professional trekking guide
All meals during the time in the canyon (02 breakfast, 02 lunch, 01 dinner)
01 night of accommodation in the Oasis (Sangalle)
Not Included
Last lunch in Chivay
Entrance to the thermal baths S/. 10.00
Extras for your Colca Canyon trek
Metal walk sticks US$ 15.00 for the entire trip
Extra Horse for carry your personal equipment $ 60.00 dollars.
Supplemental single room U.S. $ 35.00.
Hotel in Arequipa: according the category that you want, Standard, Economy, First Class, Luxury. Ask us about this service! we have all the confidential rates of each hotel in Arequipa.


Hotel in Lima, Cusco or other cities in Peru can be booked for the kind you prefer (Standard, Economy, First Class, Luxury). Ask us about this service! We have confidential rates of each hotel in Cusco to be able to get you a good deal.
WHAT YOU NEED ON YOUR COLCA CANYON TREK 2 DAYS:
You should bring your original passport.
Walking boots
Waterproof jacket/rain jacket
Warm jacket, hat and gloves
T-shirts
Comfortable trousers
Sun hat
Sunglasses
Sun protection cream (factor 35 recommended)
Re-usable plastic or metal water container or camel bags
Water for the first day, but on the way it is possible to buy bottles of water from local families.
Insect repellent
Toiletries
Personal medication
Camera and films
Optional items to bring:
Shorts
Walking stick (with rubber tip)
Plasters and bandages
Sandals
Baiting suit for the hot springs
Extra money for personal expensive, tips and entrance fees for hot springs (entrance fee for the hot spring is: 4 US $ / 10 Soles), (recommended 200 Peruvian nuevos soles for extra money)