Cusco and Inca Trail to Machu Picchu in 7 Days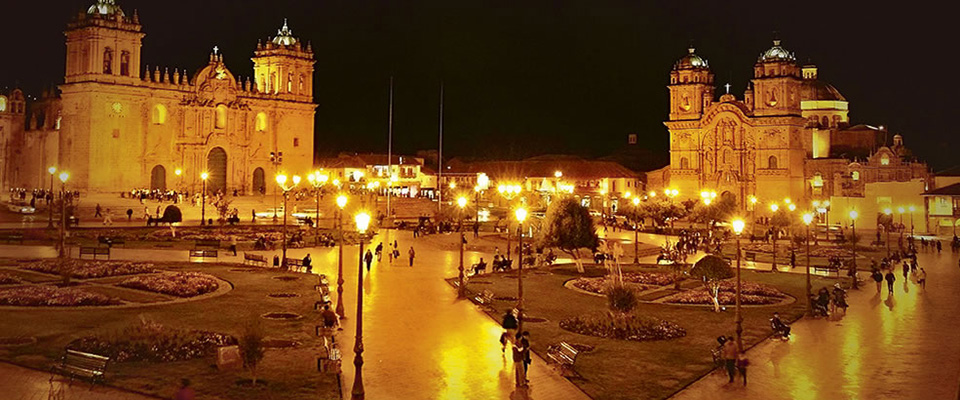 We'll take a tour of the city of Cusco and hit the main attractions left behind by the Inca civilization like Sacsayhuaman and Koricancha among others. We'll then hike the famous Classic Inca Trail, seeing more ruins along the way, before ending up in the magical destination of Machu Picchu!
---
Day 1: Arrival Cusco – Transfer to Hotel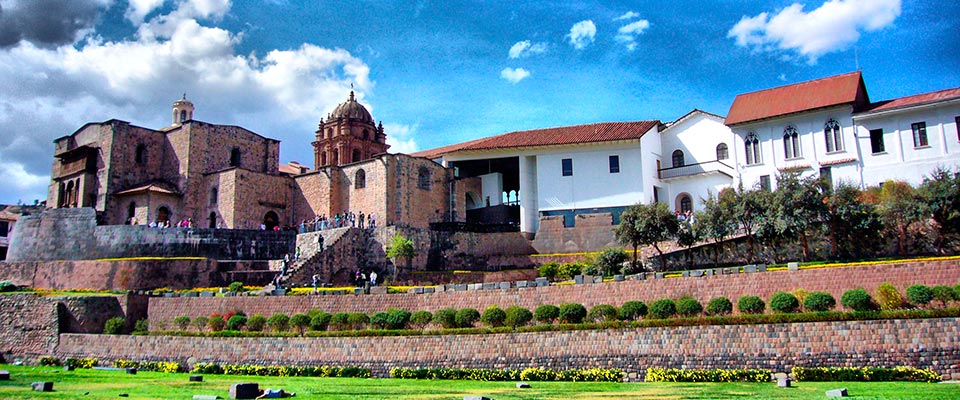 We'll start our Cusco and Inca Trail to Machu Picchu 7 Days / 6 Nights when you arrive in Cusco. We'll pick you up at the bus station or airport and bring you to your hotel. You'll have the rest of the day to relax and explore the city on your own depending on what time you arrive. Overnight in hotel.
Day 2: Cusco City Tour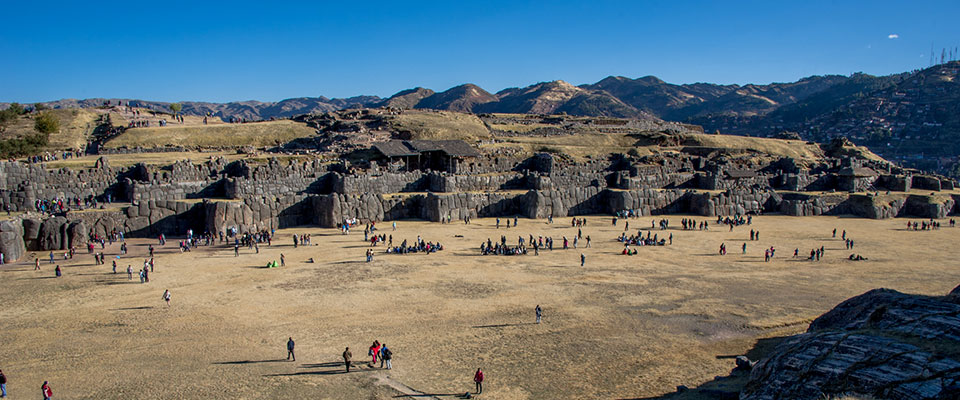 To get a better idea of the history of Cusco, today we'll go on a City Tour of Cusco which will last about 5 hours. We'll start with Koricancha/Santo Domingo Monastery. Koricancha was originally one of the main Inca temples to worship the Sun God. It was said to be covered in gold and was filled with golden statues. Unfortunately the Spanish conquistadors removed everything made of gold and destroyed the great part of the temple. They then constructed the Santo Domingo Monastery on top of the ruins, although you can still see remnants from original temple.
We will also visit the remnants of the Sacsayhuaman site left behind by the Incas. Sacsayhuaman is located above the city of Cusco and is also called 'Head of the Puma' since Cusco was built in the form of the Puma when the Incas inhabited it and Sacsayhuaman was located where the head would be. Although it was damaged by the Spanish after Inca rebellions, the ruins are still very impressive with blocks of stone, many of which weigh over 100 tons!. Close by Sacsayhuaman you'll be able to visit the Inca site of Quenqo meaning 'labyrinth.' Experts believe this site was used for ceremonial purposes. This is also the beginning of the famous Inti Raymi festival.
PucaPucara is considered to be a 'tambo' which were control points made throughout the Inca Empire. Pucapucara is believed to be a controlled entry point for those wanting to enter the city of Cusco. Tambomachay is located outside of the city of Cusco and is believed to be a temple dedicated to the worship of water. Experts think it was an import ceremonial place of worship because of the detail of the stonework. Overnight in hotel.
Day 3: Inca Trail to Machu Picchu (1st Day)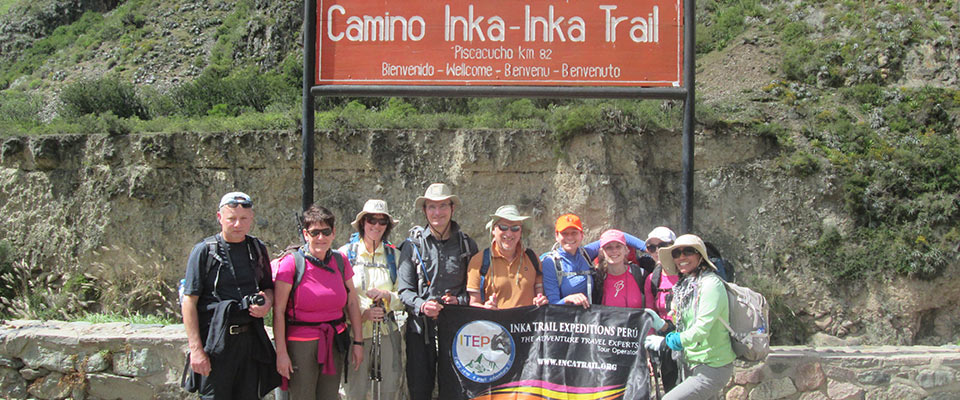 Today we'll start our Inca Trail trek part of our tour! We'll start by picking up everyone from their hotels in Cusco early in the morning. From Cusco we'll drive to KM82 which should take about 2 ½ hours, giving you time to eat a snack along the way if you missed breakfast at your hotel.
KM82 is going to be our first Inca Trail checkpoint where the authorities will check for your Inca Trail permit, your passport and if you booked your tour with a student discount, your ISIC (International Student Identity Card). From here our hike will be along relatively flat terrain to our lunch in Miskay. After lunch we'll start hiking uphill to Wayllabamba. It should take about 2 hours to reach Wayllabamba which will give us some time to relax before and after dinner. This will also give you more time to get to know the other members of your group.
Day 4: Inca Trail to Machu Picchu (2nd Day)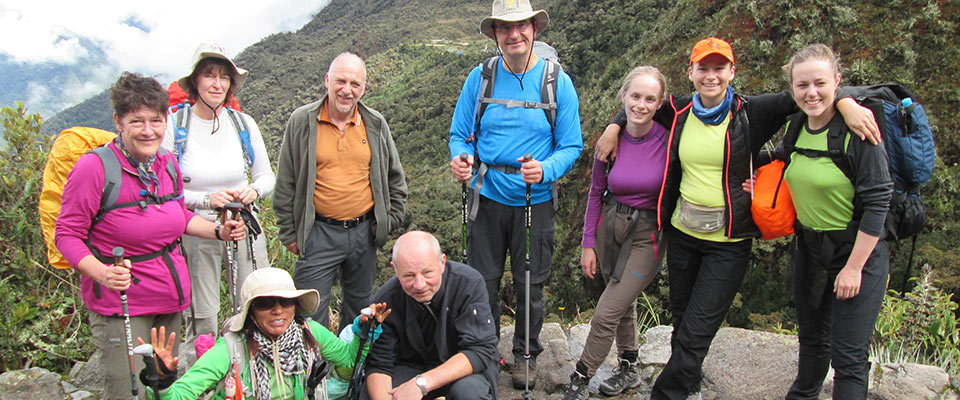 On our second day of our trek along the Inca Trail to Machu Picchu, we'll be woken up with a hot cup of coca tea. We'll have breakfast and after getting everything ready, we'll continue our trek leaving Wayllabamba, going uphill to the highest point on our trek, Dead Woman Pass at 4600 meters! We'll hike for about 5 hours before reaching the pass.
After stopping for a break at the top, taking pictures and celebrating your climb, we'll go downhill for about 2 hours until we reach our camp in Paccaymayu. We'll have lunch and the rest of the afternoon to rest at our camp. Make sure to bundle up tonight since our campsite is at 3600 meters and it will be colder than the other nights along your Inca Trail trek.
Day 5: Inca Trail to Machu Picchu (3rd Day)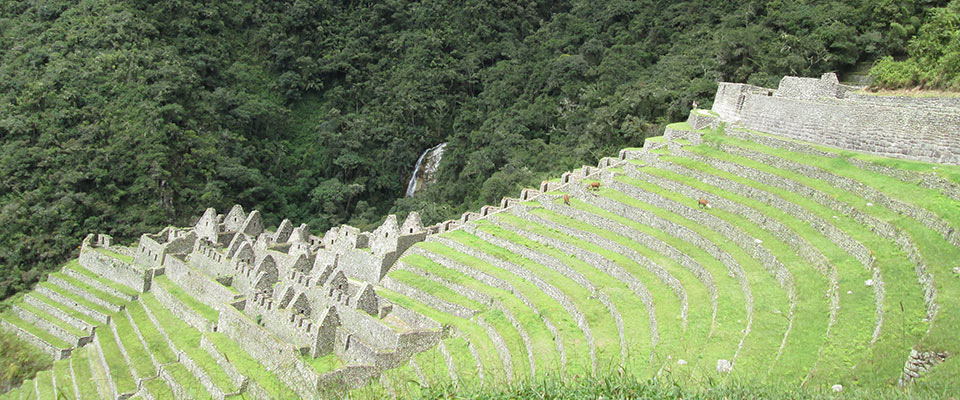 On our third day of our Inca Trail trek to Machu Picchu, once again we'll be woken up with a hot cup of coca tea before breakfast! We'll leave early since today we'll be visiting a few ruins along the way as well. We'll hike about 1 hour uphill to the Inca ruins of Runkuraqhay before continuing for another hour to the second highest pass with the same name, Runkuraqhay Pass, which is at 4000 meters. From here we'll hike about 45 minutes before reaching the Sayacmarka ruins.
After visiting these ruins, we'll hike about 25 minutes to get to our lunch site at Chakiccocha. After lunch we'll hike for about one hour to reach the Inca ruins of Phuyupatamarka which will also be our last pass at 3600 meters. We'll hike another 2 hours to reach Wiñayhuayna at around 5:00pm. This will also be our campsite for the night. Tonight's dinner will be a little more special than the other nights since tonight we'll likely see our porters and cook for the last time wide awake! They will leave after fixing breakfast in the morning, so tonight we'll have a going away dinner where you can give them a tip if you would like.
Day 6: Machu Picchu Sunrise Tour – Return Cusco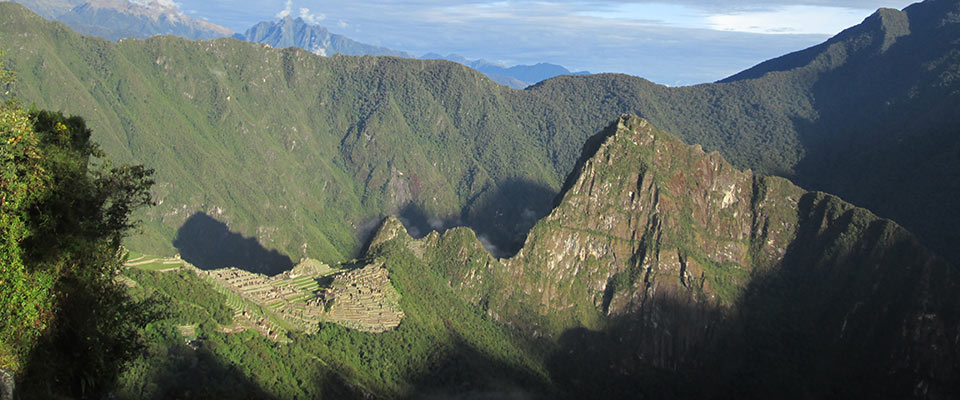 On our last day of our Inca Trail trek we're going to start early! We'll wake up at around 3:30am, have breakfast and then hike to the Inca Trail control point where you'll need to show your documents again (Passport and ISIC if it applies) . We will need to wait a little while before they will let us enter, but when we pass we'll hike on to the Sun Gate which should take about an hour to an hour and half. Here you'll have your first view of Machu Picchu! We'll take a short break to take pictures and take in the magical view. We'll walk for another 30 minutes to the 2nd control point outside of Machu Picchu. Here you can store your large backpack for a fee of 3 Peruvian Nueva Soles.
When we are all in Machu Picchu we'll have a guided tour which should last about 2 hours before giving you time to roam around on your own take pictures and admire the beautiful city left behind by the Incas. After walking around for a while you'll take bus down to Aguas Calientes where you can buy lunch or snacks for the trip back to Cusco. You'll take the Expedition train from Aguas Calientes to Ollantaytambo and from Ollantaytambo we'll pick you up and bring you back to Cusco.
Note: The time table for the trains may change according to the train company's availability. There will also be changes to your itinerary and price if you decide to change your departure time, or upgrade to the Vistadome Train. If you booked later than most of your group for your Inca Trail Trek to Machu Picchu, you may not be in the same train as the rest of your group. Overnight in hotel.
Day 7: Departure Cusco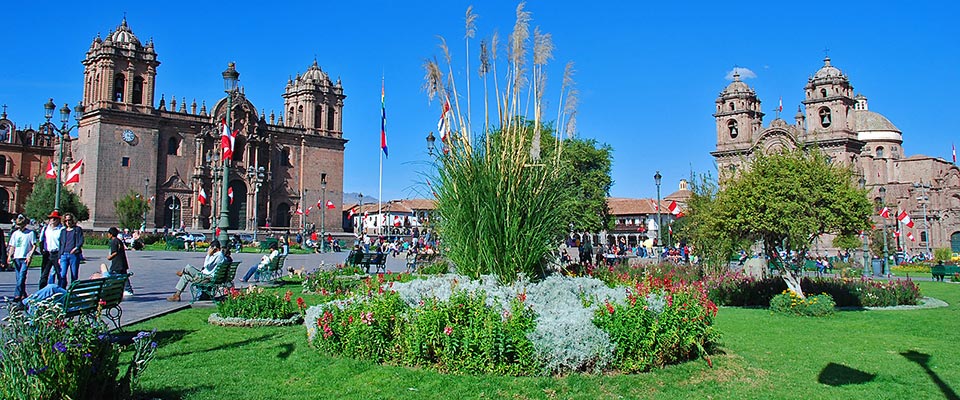 Today will be your last day in Cusco. We'll pick you up from your hotel and bring you to the airport or bus station. This will be the end of our services.
Included
Transfer Airport/Station to hotel to Airport/Station.
3 nights hotel in Cusco.
Cusco City Tour.
Inca Trail trek to Machu Picchu (see what is included for trek below)
Briefing (usually scheduled one or two days before your trek).
Tourist bus to beginning of trek.
Inca Trail entrance ticket.
Machu Picchu entrance ticket.
First Aid basic equipment and oxygen for emergencies.
Professional bilingual (Spanish/English) guide (guides who speak other languages upon request).
Meals: 4 breakfasts, 3 lunches, 3 dinners (vegetarian, vegan, etc. dietary requirements available if requested during time of booking at no extra charge).
1 Bus ticket from Machu Picchu to Aguas Calientes.
Expedition Train from Aguas Calientes to Ollantaytambo (see note about train availability, changes in times, etc.)
Transportation from Ollantaytambo to Cusco.
Not Included
Drinks and personal expenses.
Tips.
National/international phone calls.
Breakfast Day 1 of trek, Lunch and dinner on the last day of trek.
Entrance fees for Thermal Baths in Aguas Calientes ($4).
Porter to carry your personal belongings.
Backpack storage at Machu Picchu (3 soles).
Water for your water bottles. You can buy water along the way or bring water purification tablets.
Activities and items not included in the itinerary.
Extras for your Inca Trail to Machu Picchu
Walking sticks (10 $ for a pair of sticks)
Extra porter for personal items (60$ for 7 Kilos – max. 7 Kilos)
Upgrade to Single room in Aguas Calientes (35$)
Upgrade to Vistadome train (80$ )
Entrance ticket to Huayna Picchu (65$) – There is only a limited space at Huayna Picchu (400 persons per day), so it is a good idea to book in advance.
We can help you to book hotels (standard and luxury) in whole Peru.
What You Need on your inca trail Hiking to Machu Picchu:
You should bring your original passport (International Student card (ISIC) if applicable)
Walking boots
Waterproof jacket/rain jacket
Warm jacket, hat and gloves
T-shirts
Comfortable trousers
Sun hat
Sunglasses
Sun protection cream (factor 35 recommended)
Re-usable plastic or metal water container or camel bags
Water for the first day, but on the way it is possible to buy bottles of water from local families.
Insect repellent
Toiletries
Personal medication
Camera and films
Optional items to bring:
Shorts
Walking stick (with rubber tip)
Plasters and bandages
Sandals
Baiting suit for the hot springs
Extra money for personal expensive, tips and entrance fees for hot springs (entrance fee for the hot spring is: 4 US $ / 10 Soles), (recommended 200 Peruvian nuevos soles for extra money)
Discounts: Inca Trail to Machu Picchu + Huayna Picchu 3 Days 2 Nights
With an ISIC card you can get a discount (20$) of the Inca Trail; you need to scan and send it to us at the time of your booking.
If you are under 17 years old, you can get a discount (20 $) of the Inca trail; you have to scan and send you passport to us at the time of your booking.
NOTES
The Itinerary can change according to the Peruvian government, climate and health status of the trekkers.
The train schedule can change according to availability of the train company.
The train that we provide is the expedition train to Ollantaytambo – if someone books a train ticket in the last minute it is not sure that they can come in the same train as the other group.
If you would like to change your train schedule or tickets, you have to pay more for the transport from Ollantaytambo to Cusco and for the price change of the train.