Inca Trail to Machu Picchu by Llactapata in 2 Days / 1 Night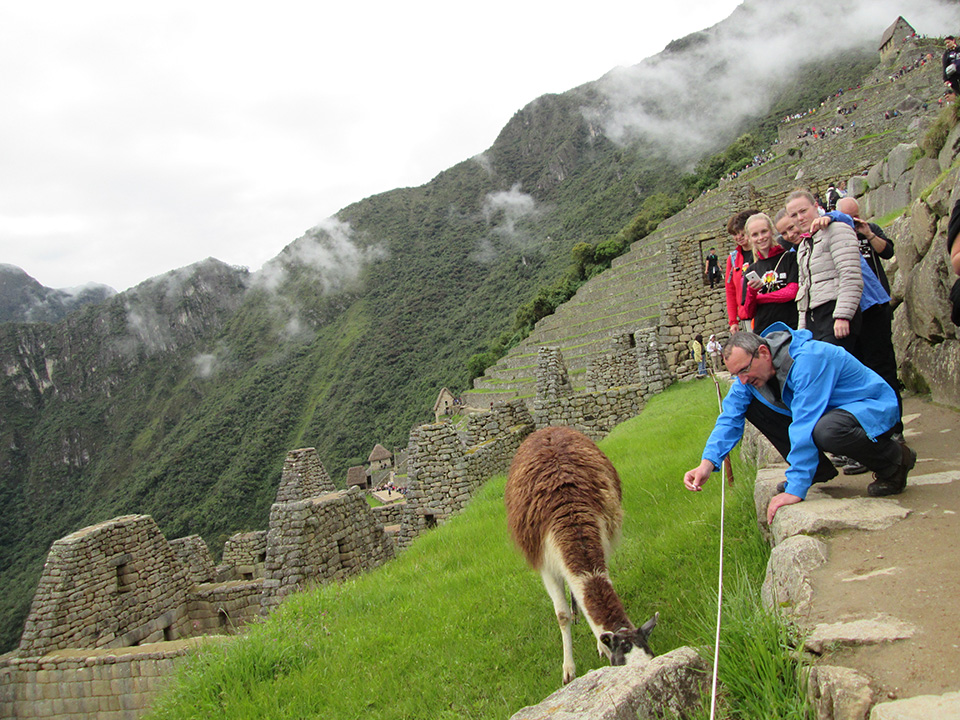 Inka Trail Expeditions Peru brings you this exclusive, two days hike using the Inca Trail to Machu Picchu and passing by Llactapata, designed with the best travel experience possible.
Dare to trek the Inca Trail crossing the jungle and the Peruvian Andes? This is a path of approximately 30 kilometers, through extraordinary landscapes, moving through different ecosystems with an abundant variety of flora and fauna, including the sacred 'Coca leaves' of the Incas which are cultivated with the permission of the Peruvian government.
You could visit Llactapata, an Inca site built on the top of a mountain just in front of Machu Picchu, and end your tour with a magnificent sunrise over the Inka Citadel of Machupicchu.
---
DAY 1: CUSCO – LUCMABAMBA – LLACTAPATA – MACHUPICCHU VILLAGE
At 4:00 am we come pick you up at your hotel to start our travel through the Sacred Valley of the Incas. On the way you could enjoy the beautiful snowy peaks of the highest point on the way, Abra Málaga (4350 meters). We descend through the jungle to Santa Teresa in the province of the Convention, and have our breakfast.
At 9:00 am we officially start the Inca Trail to Machu Picchu from Lucmabamba to reach the archaeological site of Llactapata from where you could see for the first time the Machupicchu, just right in front of you. We then descend for one hour toward a beautiful waterfall. We have lunch in Hidroelectrica, and then continue heading to Machu Picchu Pueblo passing near the Mandor Waterfalls, also known for its botanical gardens offering beautiful and colorful flowers. We finally arrive at Machu Picchu town to rest in a comfortable hotel.
Optional: you can give an early night visit to the Aguas Calientes' Hot Springs where the entrance fee is US $4.
Meals: Breakfast - Lunch - Tea Time - Dinner.
DAY 2: SUNRISE OVER MACHUPICCHU – CUSCO
We have breakfast and then take the 6am bus up to Machu Picchu to enjoy the beautifull sunrise. After which we are given a walking tour of approximately 2 hours by your erudite tour guide, followed by an exploration of the mysterious city all by yourselves.
If you had previously bought your Waynapicchu ticket (additional cost of 15 dollars but only 200 persons allowed twice a day, at 7 am and 10 am, so it is highly recommended to book ahead) you can also climb the neighboring mountain (2720m/8890ft): it takes about 45 minutes to reach the top. But you might have to skip the tour and seriously reduce your own time on the site of Machu Picchu.
We take the Expedition train back to Ollantaytambo followed by a bus to Cusco. We are in Cusco at around 10:30 pm.
Meals: Breakfast.
Note for the Inca Trail to Machu Picchu via Llactapata 2D/1N
The itinerary and campsites provided by the INC (institution that runs the Inca Trail) are subject to change depending on the time of booking. It can also vary depending on the climate or the health status of the trekkers. The train (to and from Ollantaytambo) included in every tour is the Expedition Service. Train times will only be confirmed near the time of the trek; thus if you join a group later we cannot guarantee you will be travelling on the same trains as the rest of the group. Train times are also subject to change depending on the train company timetables or availability.
Included
Transfers In / Out
Transportation from Cusco till Lucmabamba where we start walking
Professional bilingual tour guide
Assistant tour guide (for groups of 9 or more people)
Entrance Fee to Machu Picchu
Bus tickets to Machupicchu Inca City and to Machupicchu town
2 breakfasts, 1 lunch, 1 afternoon snack, 1 dinner and various snacks to be eaten throughout the day; every meals after the breakfast on day 2 are not included
First aid kit
1 oxygen tank
1 night in a touristic hotel in "Machupicchu town"/Aguas Calientes
Expedition train ticket from Aguas Calientes to Ollantaytambo
Transfer from Ollantaytambo train station to your hotel in Cusco
Extras | Inca Trail to Machu Picchu via Llactapata 2D/1N
To rent some metal walk sticks: US$10 for the entire trip
Supplement single room: US$45
Tourist train Vistadome (1st Class train with panoramic windows) : US$50 per person
Hotels in Cusco: no matter what the standard you would like (Standard, Economy, First Class, or Luxury) you should ask us to book your room as we know all the different rates for every hotel in Cusco and might secure you a pretty sweet deal
What You Need | Inca Trail to Machu Picchu via Llactapata 2D/1N:
Original passport (and International Student card (ISIC) if applicable)
Sleeping bag (not included but can be hired from us)
Walking boots
Waterproof jacket/rain poncho
Warm jacket, hat and gloves
T-shirts
Comfortable trousers
Sun hat
Sunglasses
Sun protection cream (factor 35 recommended)
Re-usable plastic or metal water container or camel bags
Water
Insect repellent
Toiletries
Personal medication
Camera and films
Torch with spare batteries (headlamps are useful)
Optional Items to Take | Inca Trail to Machu Picchu via Llactapata 2D/1N:
Shorts
Walking stick (with rubber tip)
Plasters and bandages
Sandals
Extra money
Bathing suit (for the hot springs in Colcamayo and Aguas Calientes) where the entrance fee at the door is US$4 in each place
Discounts | Inca Trail to Machu Picchu via Llactapata 2D/1N
To qualify as a student, it is necessary to have a valid ISIC card. Scan the card and email us the copy at the time of your booking. We will then offer a $20 discount per student.
For children younger than 16, we offer a $20 discount (you also need to scan and email us a copy of the passports).
For children younger than 7, we offer a $50 discount (same here: you need to scan and email the passports).
Shorts
Walking stick (with rubber tip)
Plasters and bandages
Sandals
Extra money
Bathing suit (for the hot springs in Colcamayo and Aguas Calientes) where the entrance fee at the door is US$4 in each place