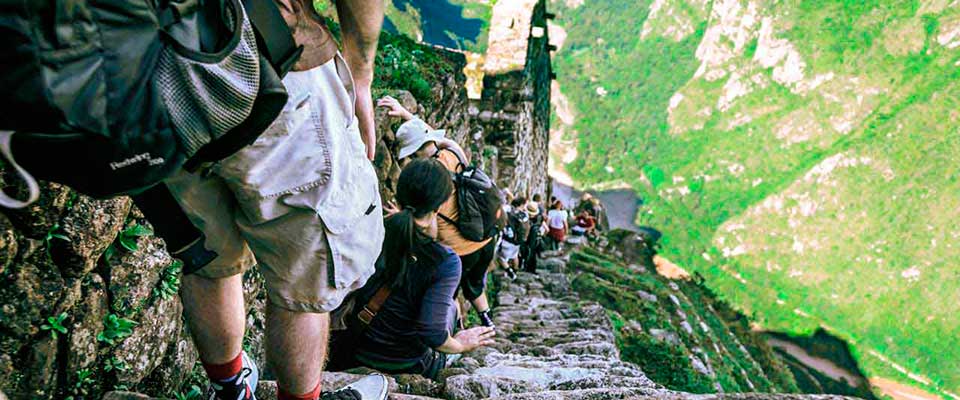 The Inca Trail to Machu Picchu is rated among the best trekking trips in the world because of the exquisite beauty of its natural surroundings; these include different ecological areas from high deserts to Andean Tropical rain forests. Following this ancient Inca Trail we will be walking past mysterious archaeological sites, half covered by jungle overgrowth, that look like you are discovering them for the first time, and finally arriving to the lost city of the Incas: Machu Picchu.
The Inca Trail 5d/4n is for those people who want to do the Classic Inca Trail trek and climb the Huaynapicchu or Machupicchu sacred mountains.
Only the Peruvian Cultural Institute INC sell the Huayna Picchu or Machu Picchu permit combined with a Machu Picchu entrance for the price of US$75. To get the best value from this US$75 you should stay the night in Aguas Calientes and re-visit Machu Picchu the next day, the beginning of that following day being dedicated to climb up Huayna Picchu Mountain; this way you get to enjoy Machu Picchu for a full extra day (a walk to Inca bridge can complete this great experience). This is especially a good opportunity in wet season to give you a second opportunity to see Machu Picchu with a good clear weather!.
So this package includes the second entrance to Machu Picchu on the 5th day, permits to climb Huayna Picchu Mountain, the train in the afternoon to go back to Cusco and arriving at around 9pm on your 5th day.
Note: tickets to Huaynapicchu and Machupicchu Mountain are limited by the Peruvian Culture Institute. Inka Trail Expeditions Perú advices you to book yours in advance, better if it is at the same time of your Inca trail reservation.
---
Itinerary
---
---
More Information
---
ADD THIS TOUR