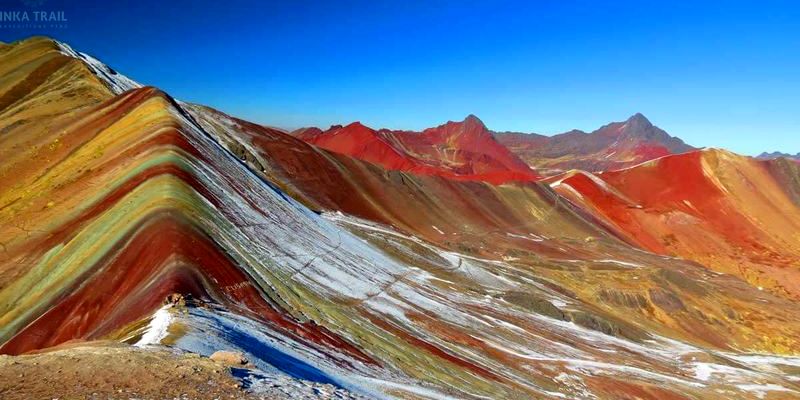 ---
Type of Tour : Adventure, Cultural
Activity(s) Hiking, Trekking, Guided Visits
The Vinicunca or Rainbow Mountain in Cusco, Peru, is an exclusive and unique place in the Andes, here you enjoy the beautiful scenery of the attractive Ausangate snow Mountain, the Andean Valleys of the Incas, and sacred snow-capped mountains such as the Ausangate Apu, Vinicunca mountain is an amazing tour to visit and explore in Cusco, during the Full day tour you can see the impressive colors of the mountain and its landscape, with stunning snow-capped mountains, also, along the way you can enjoy the Andean Fauna "llamas, alpacas and much more".
The "Rainbow Mountain" via Cusipata full day trek is a new short trail to hike to Vinicunca mountain: also know Vinicunca is an undiscovered land full of wildly desert landscapes, snowcapped glaciated peaks, herds of alpaca and pristine beauty of the Andes. The Rainbow Mountain Full Day is an amazing option trek leaving from Cusco.
On this walk you will see picturesque villages, beautiful "adobe" houses, herds of llamas and alpacas, and you will have a magnificent view of the glacier Ausangate (6,385 m / 20,945 feet). With the beauty and uninterrupted solitude, this is a spectacular journey for hikers who love a true outdoor adventure.
Secondly, ITEP Travel offers high altitude ecotourism in the mountains, Vinicunca Full day Tour is one of them; and is perfect for nature lovers; this is a new authentic experience in the Andes of Cusco. Join an exclusive ITEP travel group; Cusco explorers like you who seek to achieve their dreams in Cusco, Perú and Machupicchu.
So if you are in Cusco or wherever, don't miss out, the rainbow mountain Tour will be an spiritual gate to the Andean Gods, such as the Mother Nature # Pachamama, we are sure that you will have an unique and memorable experiences, Also there is Vinicunca 2 days tour with an overnight in our Andean Lodge and we can fix travel packages in Cusco including the experience for Rainbow Mountain.
---
Itinerary
---
More Information