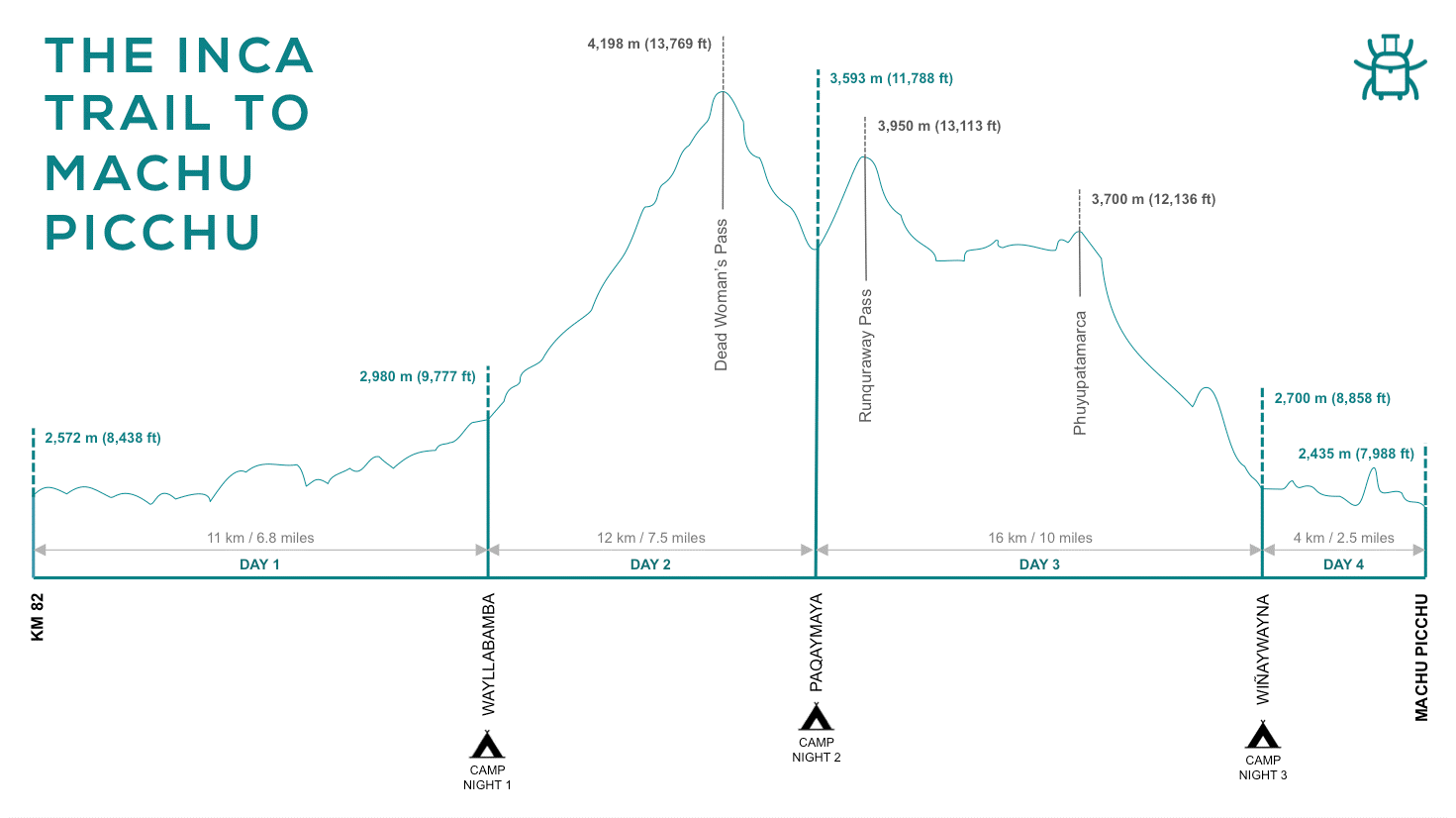 Standing at 2,400 metres, Machu Picchu is one of the lowest altitude points on the Inca Trail. The highest point on the Inca Trail is Abra Warmihuañusca or 'Dead Woman's Pass' which stands at 4,200 metres.
Generally, to be affected by altitude sickness, you need to be above 2,500 metres. Therefore, whilst Machu Picchu is below this point, Dead Woman's Pass is easily high enough to bring on symptoms of altitude sickness.
Most Inca Trail treks begin at Cusco, which, at 3,400 metres, is already considerably higher than Machu Picchu. By staying there prior to your trek, you will give your body time to acclimatize to the Inca Trail altitude.
The Inca Trail altitude varies greatly throughout the trek and your body will notice the differences, especially at the higher points.
The trail begins at a place called Km 82 at 2,600 metres and descends slowly downwards during the morning before ascending in the afternoon to Yuncachimpa at 3,300 metres. Although this is a high enough altitude to bring on altitude sickness, if you have spent several days in Cusco beforehand you should be fine at this point.
The second day is the toughest on the Inca Trail as it is spent ascending up and over Dead Woman's Pass at 4,200 metres. Your body will almost certainly feel the effects of the altitude here as the air is providing less oxygen than your body is used to. You do not spend long at this altitude and the rest of the day is spent descending down to 3,600 metres where you camp at Chaquiccocha.
From Chaquiccocha it is generally easy going as you descend to the Sun Gate and then Machu Picchu where the Inca Trail comes to an end.
Cusco - KM-82 - Wayllabamba
Level difficulty: Easy
Maximum altitude: 3000m
Minimum altitude: 2600m
Distance covered: 9 km
Approximate walking time: 5-6 hours
Wayllabamba - Warmiwañusca Pass – Paccaymayu
Level difficulty: Hard
Maximum altitude: 4600m
Minimum altitude: 3000m
Distance covered: 12KM
Approximate walking time: 6-7 hours
Paccaymayu - Runkuraqhay Pass – Phuyupatamarka – Wiñayhuayna
Level difficulty: Moderate
Maximum altitude: 4000m
Minimum altitude: 2650m
Distance covered: 16 km
Approximate walking time: 8 hours
Wiñayhuayna - Inti Punku (Sun gate) - Machu Picchu – Aguas Calientes – Ollantaytambo - Cusco
Level difficulty: Easy
Maximum altitude: 2650m
Minimum altitude: 2100m
Distance covered: 6 km
Approximate walking time: 2 hours